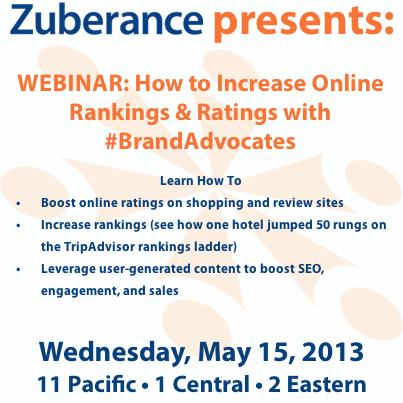 How to Boost Online Ratings & Rankings
 Sponsored by Red Door Interactive
Wednesday, May 15, 2013 | 11 PST•2 EST
Online ratings on Amazon, Yelp, TripAdvisor plus other sites can make or break your business.
Did you know?:
70% consumers trust online reviews (Nielsen)
Increasing Yelp ratings by one star can boost revenues by 5% to 9% (Harvard  Business Review)
67% prospects change their mind after reading only one to three negative reviews (Lightspeed)
[Tweet] How to Boost Online Ratings & Rankings [Webinar] w/@Zuberance on 5/15 
In this informative webinar, you'll learn how to:
Boost online ratings on shopping and review sites
Increase rankings (you'll see how one hotel jumped 50 rungs on the TripAdvisor rankings ladder)
Leverage user-generated content to boost SEO, engagement, and sales
Bonus! Ten webinar attendees will receive a complimentary autographed copy of the hot-selling book, "Brand Advocates: Turning Enthusiastic Customers into a Powerful Marketing Force," by Rob Fuggetta, Zuberance founder/CEO.
Click 'attend' to register for the webinar below:
Rob Fuggetta is the world's leading expert on brand advocacy. Fuggetta is the author of the ground-breaking new book, Brand Advocates: Turning Enthusiastic Customers into a Powerful Marketing Force. Published by John H. Wiley & Sons, Inc., a major business publisher, Brand Advocates shows how companies are leveraging Brand Advocates to build their brands and businesses – and how you can too! Fuggetta is the Founder & CEO of Zuberance, a social media marketing company that powers Brand Advocate programs for top consumer and business brands. Prior to founding Zuberance in 2008, Fuggetta was the Chief Marketing Officer at Genuity, a Verizon spin-out. He also was formerly a partner at Regis McKenna, Inc., the legendary high tech marketing and communications firm in Palo Alto, where he co-led the global Apple account.
Red Door is a strategic partner dedicated to helping businesses continuously evolve by offering a broad array of services that connect clients seamlessly with customers across all touch points.