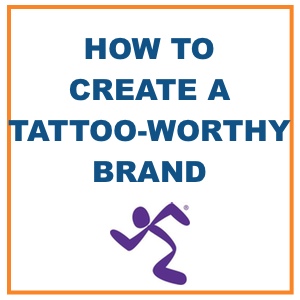 Are your Advocates so passionate about your brand they would tattoo it to their arms?
Anytime Fitness Advocates are!
Anytime Fitness, the world's fastest-growing fitness franchise with 1.7 million members and 2,400 locations globally, held its annual franchise owner meeting last weekend in Amelia Island, Florida. (I had the honor of being a guest presenter.)
This was more like a college football rally than a meeting. Franchise owners cheered wildly. They painted themselves with war paint. And about 150 of members of the Anytime Fitness "Tribe" got the purple Anytime Fitness Running Man logo tattooed to their arms.
I'm not talking about temporary tattoos. I'm talking about the shot-of-whiskey, pack of Camels, permanent ink tattoos. That's celebrity tattoo artist Jimmy Hayden in the photo etching Anytime Fitness's Running Man logo on the arm of a gym owner. About 1,000 people from nine countries have the "Running Man" logo tattooed to their bodies.
Anytime Fitness tattoos were highlighted on Good Morning America: Anyone, including employees, can now get reimbursed by the company for a logo tattoo if they submit a photo of the tattoo and describe why they wanted the tattoo.
So what does it take to create a "tattoo-worthy brand?"
Here's how Chuck Runyon and Dave Mortensen, Anytime Fitness's visionary co-founders, have done it:
Start with a compelling vision; a cause that people can rally around.
Be a passionate and caring leader.
Deliver experiences that your customers and partners will rave about.
And, of course, make it easy for your Advocates to share their passion for your brand with their social connections. We're excited to be working with Stacy Anderson, Anytime Fitness's innovative CMO, and her team, on this important mission.
Your Advocates will be your most powerful sales and marketing weapon. They'll bring you new members and customers. They'll spread positive Word of Mouth about you on Yelp, Facebook, and Twitter. And if you create a brand like Anytime Fitness, some of them will even tattoo your logo on their arms.
What brands do you think are tattoo-worthy?